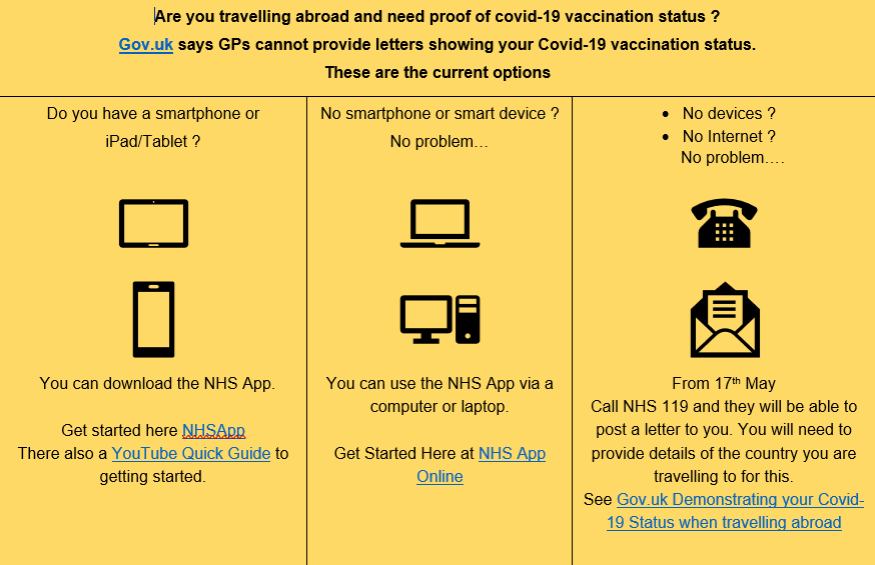 COVID-19 Vaccine
You will become eligible for your COVID booster 6 months after your 2nd dose. Currently the system appears to be 1 week behind and so it may not allow you to book until your are 6 months and 1 week after your 2nd dose.
Please click here to book your COVID booster vaccine
Symptoms of COVID - What to do?
If you have symptoms of FEVER or COUGH or a loss of, or change in, your normal sense of taste or smell it is possible that you have Coronavirus.
You DO NOT need to see or speak to a GP or Nurse to confirm this diagnosis.
You are likely to get better with self management but, if you feel worse or do not get better then you should visit NHS 111 online or phone 111.
DO NOT come to the practice if you have any symptoms of Coronavirus.
Click Here to get a COVID swab.
Click Here to find out about self isolation.
Online Appointments
Because of COVID19:
All of our GP appointments are now being held initially as telephone or online video consultations. Rest assured you will be given a face to face consultation if it is clinically required.
We have suspended online access to our appointments
Some nursing appointments will continue to be offered face to face:
For immunisations and injections
For dressings and wound checks
For phlebotomy
Covid19 and Children
COVID19 is unlikely to cause a serious illness in children, but please remember children can still become seriously unwell from other causes that are always around. Please do not let concerns over COVID19 stop you from contacting medical services. If you are not sure if your child needs to be seen please go to www.what0-18.nhs.uk/national for advice or contact 111 or your GP. For information about crying babies go to www.what0-18.nhs.uk/national. If your child is severely unwell call 999 or go to ED.
Please take note of the following advice when attending an appointment:
Ensure you are appropriately dressed so the GP can examine you.
Use the toilet before you leave home and wash your hands for at least 20 seconds.
Please ensure you wear a face mask when you enter the waiting area.
Please come into the waiting room; the receptionist will then inform the clinician you have arrived and ask you to go back and wait in your car.
The GP will be wearing protective clothing, including a face mask.
After your appointment clean your hands with hand gel.
General practice transparency notice for GPES data for pandemic planning and research (COVID-19)